White Plains concert program 1975
From Gentle Giant Home Page
Jump to navigation
Jump to search A concert program from the Gentle Giant concert in White Plains, NY on October 3, 1975
A word from Jonathan Roberts
The theater where this show took place no longer exists. It was razed years ago in favor of a row of stores. The site now houses some low-price "bargain" shops which sell everything for less than $2. A shame, as White Plains, the county seat of Westchester County, just north of New York City, no longer has any theaters of any sort, movie or otherwise.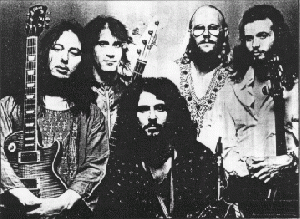 Program Notes
Over the years Gentle Giant, who came together in Portsmouth, England, have built up something of a cult following which reached a peak on their last headlining British tour when they won hordes of new fans and played a memorable concert at Drury Lane's Theater Royal.
During this time they also undertook highly successful American tours, appearing variously with Jethro Tull, Black Sabbath and Edgar Winter.
Soon they plan to record British and European concerts for a possible live album in an effort to document their development in the band thus: "The recording has got[ten] more sophisticated and we've developed as players as well -- it's got more punch since John Weathers joined the group."
Gentle Giant's musical pedigree is a high one indeed. For whilst Derek Shulman takes care of wind instruments and lead vocals, with Gary Green and John Weathers on guitars and percussions respectively, Kerry Minnear and Ray Shulman turn their earlier formal training to the best advantage by working through a variety of instruments during the course of a show, Ray excelling on bass and violin, Kerry laying down various textures via a multi-keyboard setup.
Gentle Giant's first album on Capitol Records, The Power and the Glory, provided a landmark in the band's extraordinary development.
It was a concept album of alarming complexity that emphasized leader Derek Shulman's assertion that recordings and live concerts are two totally different entities.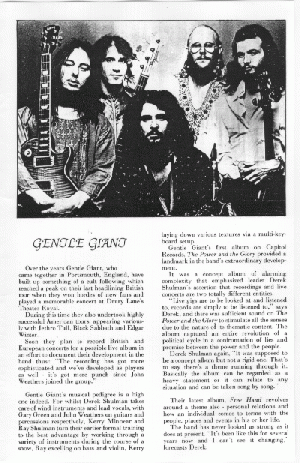 "Live gigs are to be looked at and listen to, records are simply to be listened to," says Derek, and there was sufficient sound on The Power and the Glory, to stimulate all the senses due to the nature of its thematic content. The album captured an entire revolution of a political cycle in a confrontation of lies and promise between the power and the people.
Derek Shulman again: "It was supposed to be a concept album but not a rigid one. That's to say there's a theme running through it. Basically the album can be regarded as a heavy statement or it can related to any situation and can be taken song by song."
Their latest album, Free Hand, revolves around a theme also -- personal relations and how and individual comes to terms with the people, places, and events in his or her life.
The band has never looked as strong as it does at present. "It's been like this for several years now, and I can't see it changing," forecasts Derek.