Three Friends (band)
Jump to navigation
Jump to search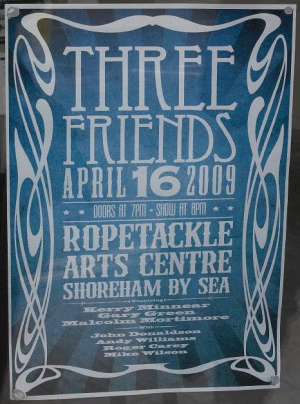 Three Friends is a band starring several former members of Gentle Giant:
plus:
Neil Angilley (keyboards)
Jonathan Noyce (bass, from Jethro Tull)
Mick Wilson (vocals, from 10cc)
Charlotte Glasson (multi-instrumental)
The band plays Gentle Giant songs and plans to create original music.
This is not a Gentle Giant reunion. It's a new band.
Previous members
Kerry Minnear - left in early October 2009
John Donaldson (piano and keyboards)
Andy Williams (guitar, collaborator with Roger Carey in the Engine Clutch And Gearbox trio)
Roger Carey (bass and vocals, from Liane Carroll's band)
Lee Pomeroy (bass and vocals: It Bites, Steve Hackett, Rick Wakeman)
Gary Sanctuary
Pierre MonAmi Bordeleau (vocals)
Tour schedule
See the official schedule for the latest information.
Set list
The set list played at the Ropetackle Arts Center on 2009-04-16 was:
Prologue
Playing The Game
The Advent Of Panurge
Pantagruel's Nativity
Just The Same
Think Of Me With Kindness
The House, The Street, The Room
The Boys In The Band
(Band Introductions)
His Last Voyage
In A Glass House
Mister Class And Quality
Three Friends
Free Hand
Giant
Peel The Paint
Instruments
In place of orchestral instruments such as violin and cello, Three Friends is using virtual synthesizers and samplers.
Photographs
View the Photos of Three Friends gallery.
Debut as Rentle Giant
On October 17, 2008, the band debuted, calling themselves "Rentle Giant," at Coolham Village Hall, Coolham (near Billingshurst), West Sussex, UK. At that time, Kerry and Mike were not in the band. They played "Prologue", "Playing the Game", "Think of me with Kindness", "The House, the Street, the Room", "The Boys In the Band", "Plain Truth", "Just the Same", "Advent of Panurge", "His Last Voyage", "In A Glass House", "Giant", "Peel the Paint" and "Mr Class & Quality."
Recordings
Apparently there are recordings locatable via the Dime a Dozen torrent site.
Video
As Three Friends
As Rentle Giant
These are excerpts only...
Official site