Five nuts in search of rock
From Gentle Giant Home Page
Jump to navigation
Jump to search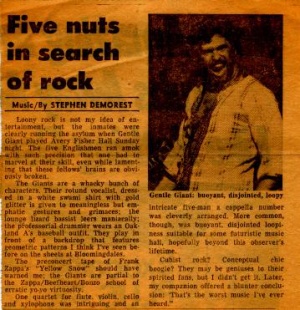 An amusing, negative concert review by Stephen Demorest, 27 February 1977.
Loony rock is not my idea of entertainment, but the inmates were clearly running the asylum when Gentle Giant played Avery Fisher Hall Sunday night. The five Englishmen ran amok with such precision that one had to marvel at their skill, even while lamenting that these fellows' brains are obviously broken.
The Giants are a whacky bunch of characters. Their rotund vocalist, dressed in a white swami shirt with gold glitter is given to meaningless but emphatic gestures and grimaces; the lounge lizard bassist leers maniacally; the professorial drummer wears an Oakland A's baseball outfit. They play in front of a backdrop that features geometric patterns I think I've seen before on the sheets at Bloomingdales.
The preconcert tape of Frank Zappa's "Yellow Snow" should have warned me; the Giants are partial to the Zappa/Beefheart/Bonzo school of erratic yo-yo virtuosity.
One quartet for flute, violin, cello an zylophone was intriguing and an intricate five-man a-cappella number was cleverly arranged. More common, though, was buoyant, disjointed loopiness suitable for some futuristic music hall, hopefully beyond this observer's lifetime.
Cubist rock? Conceptual chic boogie? They may be geniuses to their spirited fans, but I didn't get it. Later, my companion offered a blunter conclusion: "That's the worst music I've ever heard."