Frank Zappa
Jump to navigation
Jump to search
Frank Zappa was known to be a Gentle Giant fan. Derek is allegedly a Zappa fan too.
1978 interview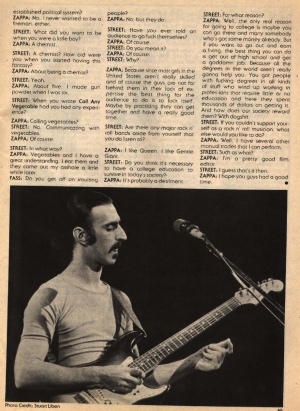 In an interview with Acid Rock in January 1978, entitled "Phi Zappa Crappa Interview: Peeking Into The Bizarre Mind Of Rock & Roll's Original Madman," Frank was asked:
Q: Are there any major rock n' roll bands aside from yourself that you do listen to?
ZAPPA: I like Queen. I like Gentle Giant.
1975 interview
Frank was interviewed on November 6, 1975 and mentioned Gentle Giant at about the 25% mark:
Thanks to Daniel Wardwell and Woon Deadn for this information!
Strictly Genteel
A fan reports:
I've heard a small part of The House, The Street, The Room (a bit of the part from 5:30 to the end) in "Strictly Genteel" by Frank Zappa, as played in "The Palladium, NYC" (on October 31, 1981) live. Since there's many versions of this show, I'll just tell you that this is from 5:09 to 5:14 (of the song) in the version that I've got.
Free Hand
William Bennett reports:
I've got a Frank Zappa connection to GG for you. I was also a big Zappa fan back then and used to attend the annual Halloween show he performed for several years running at the Felt Forum in NYC (located in the Madison Square Garden building). It was always a fantastic event, given the match between Zappa's music and the spirit of the holiday. Anyway, I distinctly remember that at the 1975 concert he was using Free Hand in the pre-concert music. The album had just come out so it stuck in my memory--I thought it was quite an endorsement. Dunno if he was using it the rest of the tour, but it was definitely on the sound system on 10/31/75.