Cashbox concert review of Roxy show 12 July 1980
From Gentle Giant Home Page
Jump to navigation
Jump to search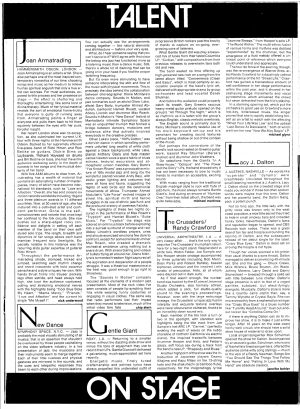 This is a concert review from Cashbox on July 12, 1980, page 13.
ROXY, LA. - Returning to a smaller venue, without the dazzling slide show and minus the tons of equipment they use to record their LPs, Gentle Giant still delivered a galvanizing, much-appreciated set here recently.
Energetic music, finely tuned craftsmanship and pointed lyrics have always propelled this underrated outfit of progressive British rockers past the brevity of trends to capture an on-going, ever-growing core of listeners. What Gentle Giant did was play a balanced mix of tunes from their latest Columbia LP, "Civilian," with compositions from their previous releases to overwhelm fans both old and new.
The band wasted no time offering up high-powered new rock on a song from the latest album titled, "Convenience (Clean and Easy)", which is most certainly an accessible example of the band's lyric wit, delivered with appropriate drama by group co-founder and lead vocalist Derek Shulman.
And before the audience could properly catch its breath, Gary Green's raucous heavy-metal guitar prelude opened on the group's "All Through The Night," which is as rhythmic as it is laden with the group's always-English, classic melodic overtones.
The English sound is primarily due to Kerry Minnear's constantly tasteful use of his multi-keyboard set-up and his penchant for creating sound textures without being shallow or out of the context of the music. But perhaps the cornerstone of the band's rock sound rested on Green's guitar work, bassist Ray Shulman (Derek's brother) and drummer John Weathers.
On selections from the Giant's "In a Glass House," "Octopus" and "The Power and the Glory" LPs, the band showed why it has not been necessary to bow to music trends to maintain an accessible, exciting sound. With music ranging from the traditional English madrigal style to rock with flute of jazz-funk, the music always remains Gentle Giant's. And during an encore of "Number One," from their latest album, the band was quite believable.
michael martinez