Suck It and See
Jump to navigation
Jump to search
About the Album
A multi-artist vinyl compilation (Vertigo 6641 116) including one Gentle Giant track, The Boys In The Band.
The gatefold album had a laminated white cover with a cartoon red and white striped stick of Seaside Rock (familiar to UK readers), with the words "Suck It And See" written in red all through the stick. By the release of this sampler, Vertigo had moved to the Roger Dean "Spaceships" label rather than the classic "Swirl" label, although the swirl was incorporated into the new design.
The album is also notable for the only official release of the Jade Warrior track "Mwenga Sketch," which was slated for a new Vertigo Jade Warrior album that never saw the light of day.
(Thanks to Alun Roach for the above information.)
Track List
Black Sabbath - Children Of The Grave
Beggar's Opera - Get Your Dog Off Me
Gentle Giant - The Boys In The Band
Atlantis - Living At The End Of Time
Kraftwerk - Ruckzuck
Jade Warrior - Mwenga Sketch
Aphrodite's Child - The Four Horsemen
The Sensational Alex Harvey Band - Jungle Jenny
Status Quo - Don't Waste My Time
John Dummer's Oobleedooblee Band - Oobleedooblee Jubilees
Jim Croce - Roller Derby Queen
Rod Stewart - It's All Over Now
The Spencer Davis Group - Catch You On The Rebop
Jackson Heights - Bump 'n' Grind
Ian Matthews - Devil In Disguise
Magna Carta - Time For The Leaving
Manfred Mann's Earthband - Buddah
Single disc version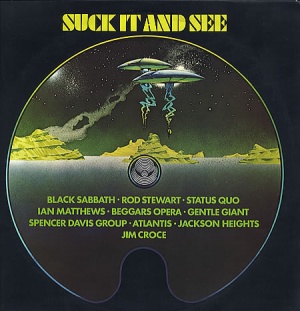 This album also came out in a single disc version, Vertigo 6499 447, also in 1973, with some different tracks:
Black Sabbath - Paranoid
The Sensational Alex Harvey Band - Jungle Jenny
Jackson Heights - Bump 'n' Grind
Beggar's Opera - Get Your Dog Off Me
Gentle Giant - A Cry For Everyone
Jade Warrior - Holy Roller
Jim Croce - Good Time Man Like Me Ain't Got No Business (Singin' the Blues)
Status Quo - Paper Plane
Atlantis - Rock 'n' Roll Preacher
Ian Matthews - Devil in Disguise
Beggar's Opera - Get Your Dog off Me
The Spencer Davis Group - Catch You on the Rebop
Rod Stewart - Gasoline Alley