Rainbow Music Hall concert 1980
Jump to navigation
Jump to search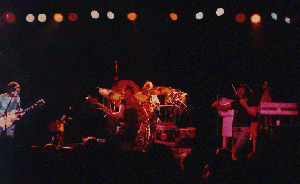 On Sunday June 8, 1980, Gentle Giant played the Rainbow Music Hall in Denver, Colorado. This show, on the "Civilian" tour, featured a mixture of old and new. The "Rainbow", was a converted tri-plex cinema in suburban Denver and had a capacity of about 1,000. As one would expect, the acoustics were awful. The show, however, was excellent. The Rainbow closed a few years later.
The Set
Convenience
All Through the Night
Free Hand
Playing the Game
Memories of Old Days
Giant for a Day
Inside Out
Underground -> Drums
For Nobody
Encore
Excerpts from Octopus
Number One
The highlights of the show were "Playing the Game", "Memories of Old Days", "Free Hand", and "For Nobody". The crowd was enthusiastic and seemed to enjoy the new material.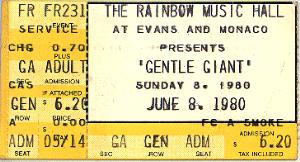 Derek introduced the band as follows:
"The Boys in the Band. Gary Green--Pepsi--no Coke, Pepsi. Ray Shulman, Bass Guitar. Kerry Minnear, Keyboards and Pepsi--and also lots of air conditioning from those people [points to fans frantically waving "Giant for a Day" masks]. Wait for it--wait for it--John Weathers, the drums. And of course, little old me--John Denver, of course [Gary starts chickin' pickin' until Derek shuts him down]. They then break into "For Nobody".
Finally, about an hour of the show was broadcast on a local radio station, KAZY.
Submitted by Bob Parker.