Giant for a Day promotional pack
From Gentle Giant Home Page
Jump to navigation
Jump to search
When Giant for a Day was released, the record label released a promo pack with a Halloween theme.
Single
This single, featuring Words From The Wise and Spooky Boogie, was pressed on orange vinyl.
Biography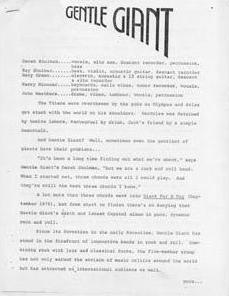 Trick-or-treat bag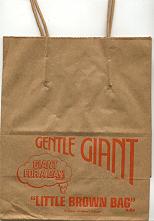 Lollipop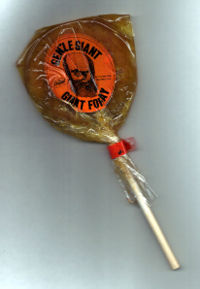 Mask
Poem
GENTLE GIANT'S TRICKS & TREATS
Goblins, gremlins, ghosts and witches
Join Gentle Giant in these Halloween wishes
With Giant For A Day leading the way
"Words From The Wise" gains widespread airplay [yeah, right!]
Five merry pranksters, their mirth world renown [sic]
The Giant's quite happy since his "words" are hit bound
As the Eve of Allhallows approaches
When the spirits do dance with glee
It's ever so ghostly appropriate
That "Spooky Boogie" fills Side-B
So as a Gentle but Giant reminder
We're sending this "Little Brown Bag"
Of tricks and treats and an orange pumpkin disc
With greetings from the whole Giant staff.