Gende's Giant
From Gentle Giant Home Page
Jump to navigation
Jump to search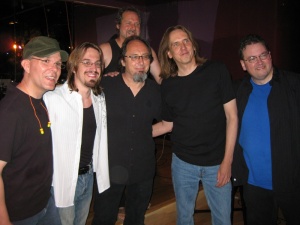 Gende's Giant is a Gentle Giant cover band, still playing concerts as of 2010.
See their concert schedule.
Lineup
Mike Gende: bass, violin, recorder, vocals
Tom Johnson: guitar, recorder, vocals
Phil Smith: keyboards, vocals, arrangements
Eric Larson: drums, vocals
Spencer Lent: lead vocals, keyboards, percussion, bass
Set list
The 2009 set list was:
Two Weeks In Spain
Cogs In Cogs
Giant
As Old As You're Young
All Through The Night
A Reunion
Funny Ways
Just The Same / Proclamation
Think Of Me With Kindness
Free Hand (song)
It's Only Goodbye
For Nobody
Aspirations
On Reflection
Experience
Mister Class And Quality? / Three Friends
Posters
Video
Their YouTube page includes:

Also Dime a Dozen from 18 July 2009.
See also