Difference between revisions of "User:Dan"
Jump to navigation
Jump to search
---
Revision as of 22:56, 17 August 2008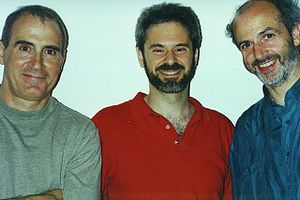 Dan Barrett is the creator and sysop of the Gentle Giant Home Page.
About me
I've been a progressive rock fan for many years but, believe it or not, didn't hear of Gentle Giant until 1987, when a good friend introduced me to The Power and the Glory. And... I didn't like it! But somehow, those complex compositions ingrained themselves on my brain, and today that album is my favorite in all of rock music.
I created the GG Home Page while earning my Ph.D. in computer science at the University of Massachusetts at Amherst. Today, I work in the software industry. I've written columns and articles for Keyboard Magazine and am the author of several books about computing, including Linux Pocket Guide, MediaWiki, Linux Security Cookbook, SSH, the Secure Shell: The Definitive Guide, NetResearch: Finding Information Online and Bandits on the Information Superhighway, all published by O'Reilly Media.