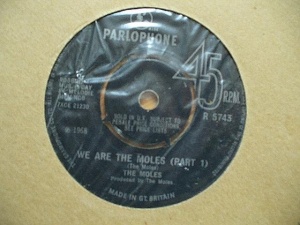 In 1968, Simon Dupree and the Big Sound released a single under the name "The Moles." This was done secretively by putting the tape into a subway locker in London and sending the key to "a major English music publication with a letter stating that the tape should be released on the Parlophone label" [1]. The tape contained the songs:
We Are the Moles (Part 1)
We Are the Moles (Part 2)
The identity of the band was not disclosed, and there was speculation that it might be The Beatles. Eventually the secret was revealed.
Some additional details:
The single was produced by George Martin.
The vocals were thought by listeners to have been sung by Ringo Starr.
Hearing the songs
Both songs were released on Part of My Past.
The song "We Are the Moles (Pt 1)" can be found on several CDs:
Various Artists, Psychedelic Abbey Road (EMI)
Various Artists, My Generation (EMI Records Ltd., NUT4 - OC 056-06 240)
Several Beatles bootlegs
Trivia