The Last Steps
From Gentle Giant Home Page
Jump to navigation
Jump to search
About the Album
This is a previously unreleased live recording of Gentle Giant's last concert in the USA, at the Roxy Theater in Los Angeles, California, in 1980. It is an official UK release from Red Steel Music, distributed by Terrapin.
The performance is from June 16, 1980 -- the second of two shows that day. However, the CD lists it as June 14. (Thanks to Jack Skelly.)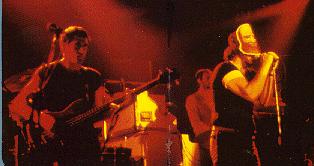 The album was originally released November 11, 1996. It was rereleased in early 2003 with a new mastering and a gatefold LP-style package. See the cover.
Musicians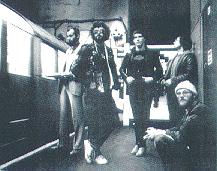 Left to right: Kerry, Derek, Ray, Gary, John
Track List
The list printed on the CD traycard is incorrect. It lists only 13 tracks, neglecting to mention that "Five man drum bash" and "Band intro" are separate tracks.
Convenience (3:47)
All Through the Night (4:19)
Free Hand (7:75)
Knots (3:31)
Playing The Game (5:01)
Memories of Old Days (8:31)
Giant For A Day (5:24)
Inside Out (6:05)
It's Not Imagination (4:11)
Underground (3:42)
Five-man drum bash (7:04)
Band intro (2:11)
For Nobody (5:43)
The Advent of Panurge (6:35)
Number One (6:42)
Reissue in 2003
Diana Green says of the reissue:
...slight redesign to the cover, inner sleeve of gatefold is the Underwood 1st album painting, which is also reprinted on the underside of the front /back cover. The booklet has a very small point reprinting of the David Armas essay from the original issue, with some of the same photos and the bad line art of the giant head.The CD itself is printed to look like a 45. The copyright lists it as a Purple Pyramid release, but there is no record number to be found aside from the UPC number. Inexplicably, they've also included a four-up mini poster of the Giant for a Day cover. The sound is a bit sharper than the Red Steel issue. The highs are sharper, and the more brash numbers are tolerable. But the dropouts on the lows are still severe. The guitar parts- heck, all of Memories of Old Days remains almost completely inaudible. Overall, this remains an album for completists, or any REALLY ambitious remixers out there!
Reviews and Ratings