Pantagruel and Panurge
Jump to navigation
Jump to search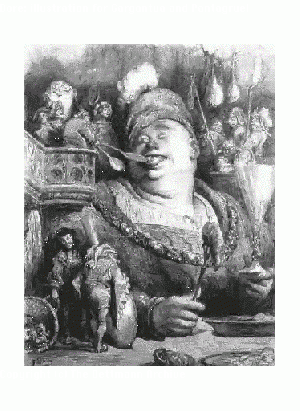 - by Mikko Alapuro
Pantagruel and Panurge, the two giant heroes of several Gentle Giant songs, come from books by Rabelais. His books were political satires filled with rather absurd humor that was probably considered perverted by his contemporaries. He had a weird liking for excrement, for his books are full of jokes and stories about it.
Overview
- by Biffy the Elephant Shrew
I don't claim to be an expert on Rabelais (or anything else), but I have read the whole Gargantua and Pantagruel cycle several times over the last 20-odd years (some of which have been very odd years indeed). Of the two translations I own, by far the better one is the J.M. Cohen one (published by Penguin) that Ant mentioned. This also happens to be the one a curious American reader (and aren't all Americans curious?) is most likely to stumble across in the average bookstore's paperback shelves. In the library you take your chances.
Insight into the two Gentle Giant songs that mention Rabelais' characters can be found in the early chapters of the second book of the cycle, known as Pantagruel. The comments below are based on the Cohen translation.
Pantagruel's Nativity is based on the second and third chapters, "Of the Nativity of the Most Redoubted Pantagruel" and "Of the Mourning Gargantua Made for His Wife Badabec." These two chapters begin with the birth of Pantagruel, who was "so amazingly large and so heavy that he could not come into the world without suffocating his mother." The former chapter explains why "the earth was dry and burning" at the time of Pantagruel's birth--and what effect this would have on the young giant's character! The latter has Gargantua saying "Shall I weep...Yes. Why then?"--quoted almost verbatim in the GG song. He remains torn between grief for the loss of his wife and joy at the birth of his son.
The Advent Of Panurge refers to the ninth chapter, entitled "How Pantagruel Found Panurge, Whom He Loved All His Life." Pantagruel speaks: "Do you see that man coming along the road from the Charenton bridge? On my faith, he is only poor in fortune. His physiognomy tells me for certain that he comes of some rich and noble stock." GG put it more succinctly: "the man who is poor but rich." (They got the name "Charenton" wrong, though.) The song closely parallels the events of the chapter, in which Panurge answers Pantagruel's offer of friendship with pleas for drink in every language but the one he understands. Sounds like some people I know...
Short Analysis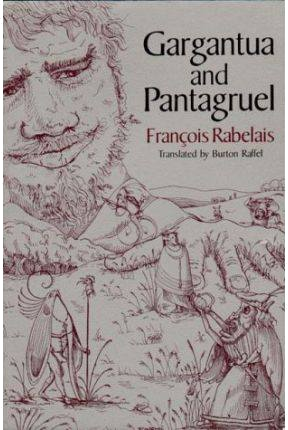 - by Ant
How can I laugh or cry
When my mind is sorely torn?
Badabec had to die
Fair Pantagruel is born
Shall I weep, yes, for why?
Then laugh and show my scorn

The speaker in the above lines is Gargantua, Pantagruel's father. Babadec is Pantagruel's mother. Why "scorn?" Look, your wife dies giving birth. You're glad to have a son and heir, but you're a bit pissed off that he's so big that he killed his mother in the act of being born.
Here's book 2, chapter 3 of Rabelais, with more of the story.
Chapter 3: Of the Mourning Gargantua made for the Death of his Wife Badebec
When Pantagruel was born no one could have been more astonished and perplexed than his father Gargantua. For, seeing on the one side his wife Badebec newly dead, and on the other his son Pantagruel newly born, and so big and handsome, he did not know what to say or do. His mind was troubled with the doubt whether he ought to weep in mourning for his wife, or laugh out of delight at his son. On either side he found sophistical arguments which took his breath away. Or he framed them very well in modo et figura but he could not resolve them. And consequently he remained trapped, like a mouse caught in pitch, or a kite taken in a noose.
'Shall I weep?' said he. 'Yes. Why then? because my wife who was so good is dead. She was the most this, and the most that, that ever was in the world. I shall never see her again, amd I shall never find one like her. This is a loss beyond all calculation! O my God, what have I done to thee that thou shouldst punish me so ? Why didst Thou not send death to me before sending it to her ? For to live without her is no more than a lingering death. Ah, Badebec, my sweet, my darling, my little coney -- hers was a good three acres and two roods in size for all that -- my tenderling, my codpiece, my shoe, my slipper, never shall I see you again. Oh, poor Pantagruel, you have lost your good mother, your sweet nurse, your beloved lady. Ah, false death, unkind you are to me, how cruel you are to me, to wrench from me her whose rightful due was immortality!'
And as he spoke he bellowed like a cow. But when Pantagruel came to his mind, be suddenly began laughing like a calf: 'Ho, my little son,' he cried, 'my ballocklet, my footkin, how pretty you are! How grateful I am to God for having given me such a fine son, such a jolly little fellow, so smiling and gay! Ho, ho, ho, ho! How glad I am. Let's drink, ho, and banish all melancholy! Bring some of the best. Rinse the glasses. Lay the cloth. Drive out those dogs. Blow up that fire. Light that candle, Shut that door. Cut up this toast for soup. Send these poor people away, and give them that they want. Take my gown, and let me strip to my doublet the better to entertain my company.'
As he said this he heard the litanies and dirges of the priests who were carrying his wife to the grave. So he broke off his talk, and was suddenly carried off in another direction, saying: 'Lord God, must I turn sad again? It grieves me. I am no longer young. I am growing old. The weather is dangerous. I might catch some fever, and then I should be done for. By my faith as a nobleman, it's better to weep less and drink more. My wife is dead. Well, in God's name -- da jurandi -- I shan't bring her back to life by my tears. She is well off: She is in Paradise at least, if in no better place. She's praying to God for us, she's very happy, she's not worrying any more about our miseries and calamities. The same fate hangs over our heads! God care for those who remain alive! I must think of finding another.'
'But this is what you must do,' said he to the midwives, the wise women. 'But where are they ? Good creatures, I cannot see you anywhere -- Go to her burial, and in the meantime I'll rock my son here, For I feel very unwell, and might be in danger of falling sick. But drink a good draught beforehand. You'll find yourselves the better for it, believe me, on my honour.'
In obedience to his orders, they went to the funeral service and burial, and poor Gargantua remained at home, during which time he composed an epitaph to be engraved as follows:
DEAD IS THE NOBLE BADEBEC 
WHO HAD A FACE LIKE A REBEC 
A SPANISH BODY AND A BELLY 
LIKE A SWISS FRAU; SHE DIED, I TELL YE 
IN CHILD-BED. PRAY TO GOD THAT HER 
HE PARDON WHEREIN SHE DID ERR. 
HERE LIES HER BODY, WHICH DID LIVE 
FREE FROM ALL VICE, AS I BELIEVE, 
AND DID DECEASE, POOR SIMPLE BRIDE 
THE YEAR AND DAY ON WHICH SHE DIED.

Further Information
The Pantagruelion has info on our favorite French giants, Pantagruel, Panurge, and Gargantua, and the writer Rabelais.