Artistically Cryme
Jump to navigation
Jump to search
About the Album
This is a 2-CD live performance released on the Glasshouse label (number 104CD). It was originally released in 2000 as a bootleg on the Highland label.
A fan reports: "This concert was recorded at Olympen - Sparta in Lund, Sweden, September 19, 1976. The sound quality is rather poor. The performance, however, is brilliant."
Another fan reports: "It seems to be an almost entire mono-sound on that one and it has lost low frequency. I guess it was recorded by cheap radio cassette recorder. To be sure, the sound quality is cheap, however this album has been recorded unnecessary things which mean noise, audience's vox, thumps of foot & clapping and so on. I evaluate this album which has been obviously reproduce a start of concert. Because HIGHLAND has recorded the whole "Opening / Intro" and it has been recorded longer than same song title of Playing the Fool. I think I'd like to modify this album for a re-mastering to get restoration of low frequency using a algorithm of Combination Tone Method (by Hermholtz). Besides this album due to release as better one. At any rate, this album has recorded as without low-frequency (at least the low-frequency has destroyed lower than frequency point at 250Hz)."
Another cover released by Voiceprint: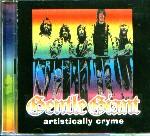 There's a review at Sea Of Tranquility.
Track List
Disc 1:
Opening/Intro (2:20)
Just The Same (5:35)
Proclamation (5:59)
On Reflection (6:53)
Interview (7:11)
The Runaway / Experience (10:42)
So Sincere (11:20)
Disc 2:
Excerpts From Octopus (16:11)
Band introduction (2:12)
Funny Ways (8:50)
Timing (13:20)
Free Hand (9:50)
Peel The Paint / I Lost My Head (7:32)